Here is a little information about our organisation
Contact is Selsdon Churches Neighbourhood Care scheme which provides practical help, advice, support and information for anybody living within the Selsdon area and part of Sanderstead, through a large network of volunteers. Contact welcomes all clients and volunteers regardless of any religious, political or secular persuasion.
The scheme was originally set up in 1973 by the local churches in response to the needs of the local community and has grown continually since then. In 2003 Contact moved to its present office on the lower ground floor in the Sainsbury's building. We have two part time workers and a team of 15 office volunteers managing the administrative side of the work – with a further 300 volunteers providing practical help.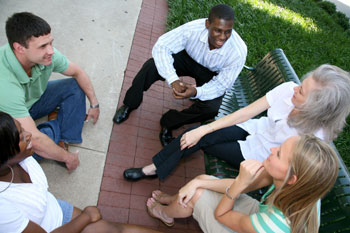 About our work
All our work is 'outreach' – helping people to stay independent in their own homes and providing ways to achieve this independence:
Transport to local doctors, clinics and hospitals providing company and taking the worry out of getting to an appointment.
Regular calls to our clients to check they are ok, making them feel 'cared for'.
Shopping bus scheme with escorts to help, giving clients the ability of choosing their own shopping.
Smoke alarm scheme - installing free alarms making home a safer place.
Loan equipment such as wheelchairs/walking frames/bath seats for short term loan – which may bridge the gap when waiting for equipment to be delivered.
Visiting housebound people and keep them feeling less isolated.
Assisting with benefit claims and increasing weekly income to make life a little more manageable.
Outings with escorts getting housebound people our of their homes.
Collecting prescriptions and ensuring medication is maintained or taken promptly.
Providing lists from our 'Services for Payment file' such as local hairdressers/electricians/etc giving people more confidence.
Installing safety chain or spy holes for front door promoting safety and confidence.
DIY mending a shelf/door handle/etc – an impossible task for some people.
Changing light bulbs – another impossible task without help for some people.
If you like the sound of our organisation then we would urge you to consider Volunteering. Or perhaps if you are busy then please do consider donating.